Bailing Structural principle and scope of application of double-toothed roller crusher
Date:2018-12-04 09:47 From:Bailing Machinery Author:admin
Structural principle and scope of application of double-toothed roller crusher
Breaking of hard materials In the case of strict requirements on the particle size, a double-toothed roller crusher is suitable. The double-tooth roller crusher is a mining machinery production equipment. In today's society, the equipment is in great demand and the competition is fierce. The tooth roller crusher has many advantages such as strong crushing ability, high crushing efficiency, small area and simple structure.
1. Double-tooth roller crusher structure
The double-toothed roller crusher is mainly composed of main and auxiliary transmission gear boxes, casing, machine base, crushing tooth roller, gas-liquid buffer cylinder and motor. The main and auxiliary transmission gearboxes are rigidly connected to the upper and lower section crushers via the sandwich coupling to form an integral gear transmission. The motor drives the drive shaft of the main transmission box through the large and small pulleys and the V-belt. The connection between the large pulley and the drive shaft does not have an overload safety pin device to ensure the protection of the motor during overload. An energy-saving double-toothed roller crusher is also available.
2, double-tooth roller crusher on-site use precautions
The double-toothed roller crusher should be placed on concrete or a specially prepared metal frame. The position and size of the anchor bolts should be based on the information provided by the crusher manufacturer. In particular, the crusher is not allowed to be installed on an uneven foundation surface. The uneven foundation surface will cause distortion of the frame of the crusher, resulting in deterioration of the working state of each gear in the main and auxiliary transmission gearboxes.
The double-toothed roller crusher must be operated under the cavity, and the side must not stand by the crowd. Care should be taken to check that the parts are working properly before starting. It can be fed and carefully checked during feeding to prevent superhard materials and iron from entering the double-toothed roller crusher. It is strictly forbidden to eliminate faults during operation, and any cleaning work is strictly prohibited. Before stopping the vehicle, the machine must be stopped. The materials in the standby unit are all broken and then the machine is stopped. Always check the V-belt and sprocket chain used in the crusher. If the damage is 30%, it must be replaced with new ones. The double-toothed roller crusher is thoroughly inspected once a year.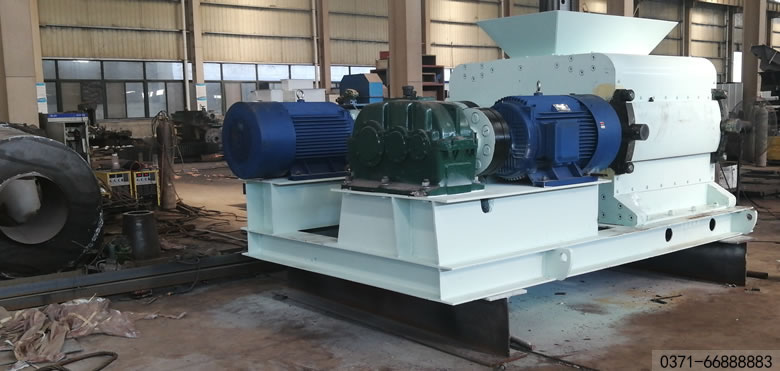 Contact Us:
Phone: 0086-371-66888887
Mobile: 86-18203639337
WeChat: 18203639337
Email: sales@bljq.com
Online store: https://zzbailing.en.alibaba.com