Introduction
Product Description:
The working parts are two cutter heads, also called cones; one is fixed cone ( also called outer cone), the other one is movable cone ( also called inner cone), please refer to the picture. The outer cone is fixed, which is one part of frame; the movable cone is in the eccentric bush, so the central axis between the fixed cone and the movable cone intersects and forms into a bevel. When rotating, the movable cone rotates along the inner surface of the fixed cone. The place that the movable cone pressed against the fixed cone becomes the crushing cavity, where the materials is pressed, impacted and bent by the movable cone. The place that the movable moves away from the fixed cone becomes the discharging open, where the crushed materials are discharged out under the role of gravity.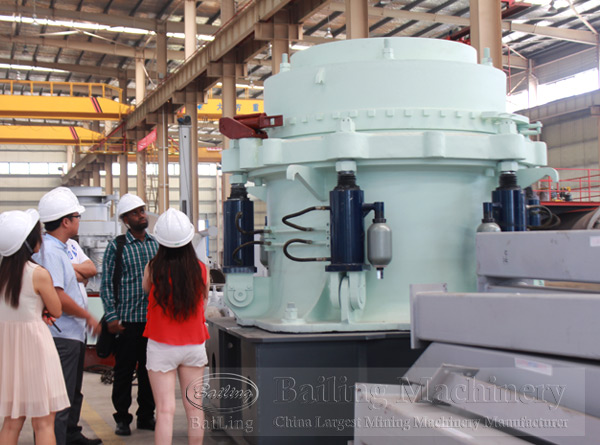 Features:
1. The deep crushing cavity increases the feeding capacity and output capacity;
2. High ratio of crushing, homogeneous final product size;
3. Adjusting the discharge opening through gasket, more convenient, it can meet different customers' requirement
4. Lubricate system is safe and reliable, easy to change the spare parts;
5. Simple structure, easy maintenance, consumption cost is lower;
6. Energy-saving, for one set saving about 15%-30%;
7. Little noise and dust.
Parameter