Introduction
Product Description:
The hammer crusher is mainly used in such industries as cement, coal separation, electricity generation, building materials and compound fertilizer. The hammer crusher can crush materials with different sizes into equal particle, which favors the next procedure. The hammer crusher has the advantages of reliable mechanical structure, high productivity and favorable applicability.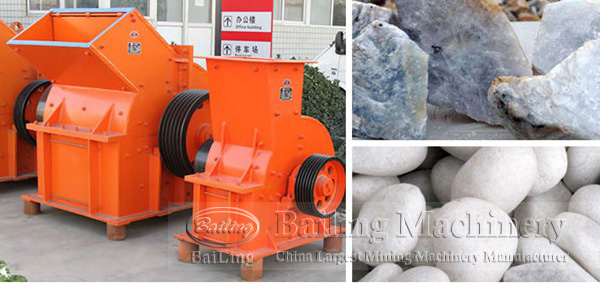 Features:
1. The body uses gas to protect the welds, through the technological performance of vibrating expiration, the toughness of structure is stronger.
2. Rotating parts are processed and with quality-adjusting treatment by the numerical control center. The toughness is higher.
3. The hammer plate was processed by the high-toughness materials, through the overlaying treatment, the appearance is more anti-resistance.
4. The hammer head use the pure high-chromium alloying material. The tensile strength and the wear-resisting property become better.
5. The screen board and the protecting board use the design idea, the anti-hit, the resistance to wear becomes stronger.
6. The outlook design and the strengthened intrinsic quality make the performance to be more superior.
Parameter