Introduction
Product Description:
Spiral chute is an efficient concentrating equipment, especially for concentrating sand ore in seashore and riverside. It is made of the fiberglass lined with wear-resistant polyurethane and corundum cover. Its advantages are light in weight, moisture proof, and anti-rust, corrosive proof and no noise; properly suitable for different feeding particle sizes and grades.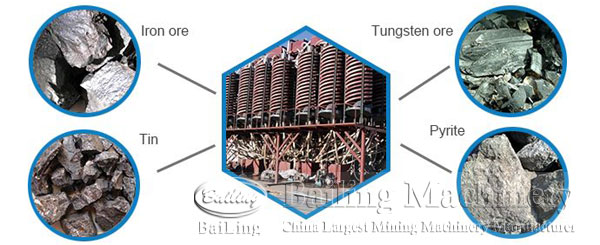 Features:
1. The concentrates, middlings and tailings are separated at the tail end, and no washing water is added during the process.
2. The spiral chute connected by the spiral piece is the main component.
3. Its inner surface is covered by abrasion-resistant lining, which often refers to polyurethane wear-resistant rubber or epoxy resin mixed with artificial corundum.
4. A wear-resistant layer of diabase powder is also added to the inner surface while fabricating the spiral chute.
5. There are feeding evenness differentiator and feed chute at the upper end of the spiral chute, while the product intersecting chute, product gather bucket are at the tail end.
6. The whole equipment is vertically supported by channel steel.
Parameter