Introduction
Product Description:
The coal slime dryer is mainly used drying coal slime and it is a special equipment for coal slime drying machine, because the coal slim has the characters of high humidity, high cohesiveness. The slime scattered bond before drying, enlarges the contact area of the slime and hot air, the heat utilization rate is greatly improved, the slime moisture after drying will be reduced to below 12% . The slime after drying can be directly used as fuel and the coal waste become to treasure. The Bailing coal slime dryer is a new and special slime drying equipment based on cylinder dryer developed .we have our own intellectual property rights, and won 2 items the national utility model patent .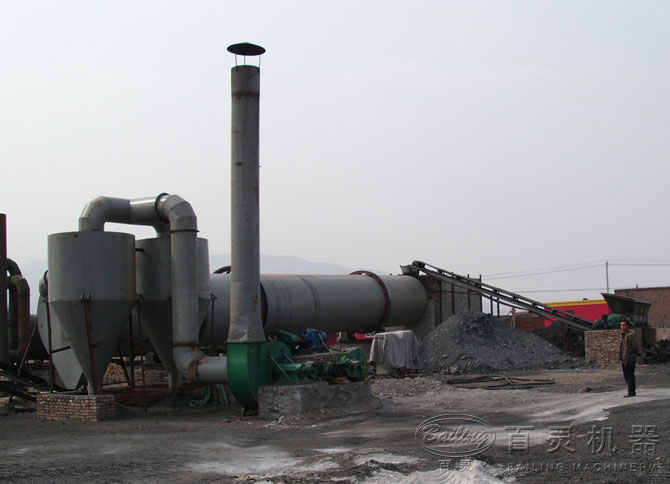 Features:

1, Strong anti-overload ability , large capacity, low fuel consumption, low drying cost;
2, The slime dryer adopt concurrent flow drying. Flue gas and wet materials can be obtained from the same side into the drying equipment. The evaporation intensity can be very high by using high temperature flue gas.The dryer outlet temperature is low and its high thermal efficiency;
3, Slime drying machine can change the operating parameters according to the different material properties , so that the material form a fabric curtain, heat exchange more fully;
4, The new feeding, discharging device of this machine put an end to the drum dryer feed jams, discontinuous, inhomogeneous and material return phenomenon, reducing the dust removing system load;
5.The new internal structure of the dryer strengthened the dispersed material cleaning and heat transfer effect, eliminates the sticking phenomenon the inner wall of the barrel body, more adaptable for moisture content, viscosity;
6, Coal slime drying machine achieve a "zero thrust", greatly reducing the block roller wear . Cylinder smooth operation and reliable;
7, Slime dryer adopts "aligning roller device", so that the roller and roll ring are always linear contact, thereby greatly reducing the wear and power loss;
8, The drying equipment can control the product size and moisture according to the requirements of users, finished slime products moisture can reach below 8% and particle size can be controlled below 8mm.
Parameter