Introduction
Product Description:
Sand dryer or sand drying machine is a handling large quantity material dryer. As reliable work, flexible operation, strong adaptability, large capacity,it widely used in building material, metallurgy, food, chemical, coal, medicine in mining industry . Because the different materials have high requirement on the dryer texture , the Bailing dryer's lifter can choose different texture depend on the the different material properties, such as stainless steel, high manganese steel etc.! Drying machine roller made of 45Cr material and roller adopt 35CrMo material .It is wear-resistant practical! To the greatest extent to reduce the degree of replacement of wearing parts of the equipment, it brings great benefits to customers later equipment repair and production operation!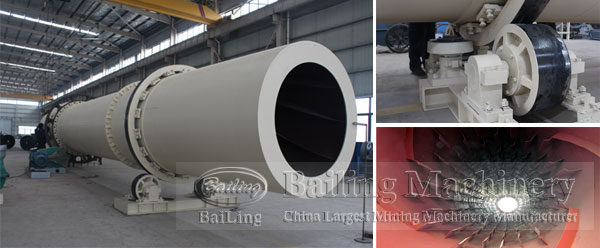 Features:

1, Equipment investment is 20% of imported products .It adopt wear-resistant manganese plate .It is more wear-resistant than ordinary steel 3-4 times.
2, The material initial moisture is15%, final moisture can be ensure the following 0.5-1%. It is the preferred product of slag powder, dry mortar production line and other various drying engineering in cement plant.
3, Its thermal efficiency is more 40% than the traditional single cylinder drying machine .
4, the fuel can be used anthracite, bituminous coal, coal gangue, oil, steam. It can bake 20-40mm block, granular, powdery materials.
5,Its area is less about 60% than the single cylinder drying machine . Construction investment is reduced by about 60% and it is convenient for installation.
6, no leakage phenomenon, completely solves the sealing problem.
7, the material temperature below 60 degrees .It can be directly into the database, without cooling roof process.
8, the outer cylinder body temperature is below 60 degrees , the temperature of exhaust gas is below 120 degrees, dust removal equipment bag 's service time is more than 2 times.
9, coal consumption is 1/3 of single cylinder drying machine , saving 40% power , and tons of standard coal consumption is bolow 18 kg.
Parameter