A new move in North Korean Mining?
Date:2017-08-14 08:46 From:Bailing Machinery Author:admin
Moving into mining
Mining presents a unique opportunity to stimulate North Korea's economy.
Unlike many of the economic avenues the nation has travelled down – drugs, arms, statues, and outsourcing its own citizens as a cheap labour force – tourism and mining are legally providing a development path unaffected by the existing UN sanctions.
According to Pacific Century Rare Earth Minerals (PCRE), a joint venture between SRE Minerals and The DPRK's Korea Natural Resources Trading Company, "It is a common misconception that mining in countries which are the subject of UN sanctions is prohibited, [however] nothing could be further from the truth; the UN sanctions with regards to the DPRK are targeted to prohibit the development of specific military technology and weapons."
"There are currently 12 different countries, including DPRK, that are subject to UN Resolutions, all of which generate significant revenue from the extraction of minerals (i.e. DRC revenues from mining in 2012 were in excess of US$1.8 billion)," PCRE stated.
Habib outlined how these open channels, outside of UN sanctions, are providing a course for growth for North Korea."The resources sector has been the first legitimate sector of the economy to take off in the Songun (North Korea's military first policy) era," Habib said.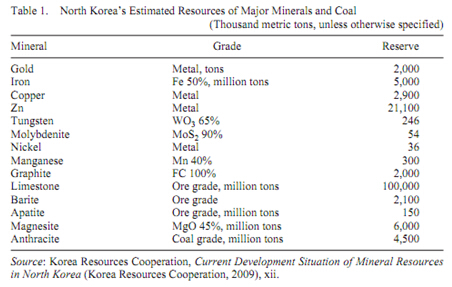 It has even been used as a setting for its film industry.
"North Korea is coming up, and since 2009 we've seen a spike in the country's income from natural resources, according to data from the Bank of Korea," Habib told Australian Mining.
According to figures from the Nautilus Institute, the combined value of these resources is in the trillions of dollars – US$6 trillion in rare earth minerals alone - and the nation is actively working to making mining feasible.
Strangely enough, the nation is even doing what Australia and even Russia can't, increasing its coal sales to China, and was the only country to actually boost its shipment levels to the nation as it provides high quality anthracite coal.
"North Korea is the new No. 1 exporter of anthracite," Georgi Slavov, head of basic materials research in London at Marex Spectron told Bloomberg earlier this year.
This is little surprise as North Korea has high levels of quality coal, as well as iron ore, and the second largest reserves of magnesite, which helped precipitate a growth in Chinese investment in the country's mining sector.
"The timing of this acceleration coincides with a renewed focus from the North Korean government in developing the mining sector," Habib said.
"According to Bank of Korea data, for 2011 the mining sector grew 0.9 per cent," he added, a significant amount for the nation.
The fact that it sits with geographically right in the middle of around a third of the world's current GDP (thanks to its close proximity to Russia, China, South Korea, and Japan) has created a strong potential growth environment, Dr. Louis Schurmann, director and principal economic geologist at Chamoni Geoconsultants and director of operations for Pacific Century and the geologist who proved up the resource, explained to Australian Mining.
However the country has also been hit by mining's more recent decline.
"While increased rents from resource extraction are providing the North Korean government with a valuable foreign currency revenue stream, this export is itself exposed to fluctuations in international commodity prices and could even retard the revival of the country's manufacturing sector through the resource curse," the Griffith Asia Quarterly stated.
Added to this is the belief by current North Korean leader Kim Jong-Un that its resources are being sold off too cheaply, predominately to China and Russia, as it pushes for higher prices, which may have a negative backlash in a market that is already oversupplied.