Delafossite beneficiation plant
Date:2014-07-22 10:59 From:Bailing Machinery Author:admin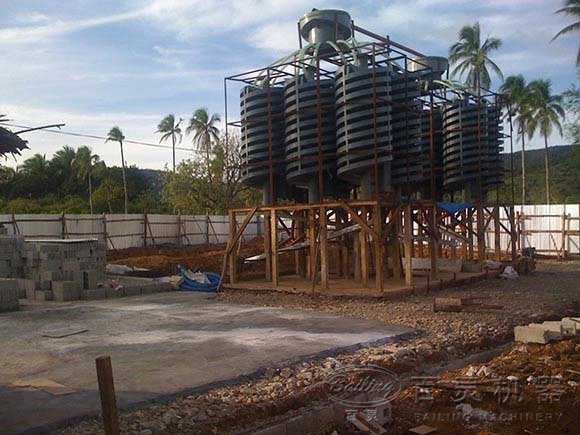 The raw ore in this plant at our client's site contents delafossite , the main valuable mineral is magnetite and a few hematite. Copper mineral is copper sulphide, grade is under 0.7%. TFe grade is 24%, magnetic Fe occupancy is 74%. Gangue mineral is quartz, feldspar. Process capacity is 100,000t/a. Crushing process operability is 65%, grinding process operability is 80%. Crushing process output size is <18mm, griding process output size is <200mesh(80%). Crushing process capacity is 17.56t/h, grinding process is 14.27t/h.
We use two step with one closed circuit crushing, one closed circuit grinding. Low magnetic, gravity separator and flotation separator unite flow chart. Main machines including jaw crusher, cone crusher, vibrating screen, overflow type ball mill, spiral classifier, low magnetic separator, spiral chute and flotation machine .
The general layout drawing is designed as detailed site survey, rational utilization of the terrain. The whole plant designed reasonably, Basically achieved automatic ore slurry flows, near flow chart and concentrated equipments, it is convenient for operation and maintenance in production process.
This plant recoveries Magnetite and copper oxide successfully, Concentrate grades reach to 65%, tailings grade controlled in 6%, Fe recovery is higher than 80%. Copper concentrate grade is about 15% , tailings Cu grade under 0.3%, Cu recovery is higher than 60%. Basically realized capacity and grade, achieved good results.